Pro-Tek Front & Rear Brake & Clutch Fluid Reservoir Cap Set For 1994-1997 Honda VFR750F Interceptor 750 VFR-750F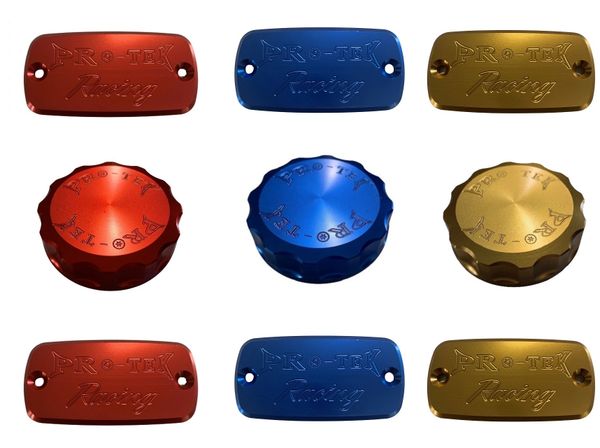 Pro-Tek Front & Rear Brake & Clutch Fluid Reservoir Cap Set For 1994-1997 Honda VFR750F Interceptor 750 VFR-750F
You are looking at a Pro-tek CNC billet Front & Rear Brake and Clutch Fluid Master Cylinder Reservoir Cap Set (Pro-tek Part No. RCK-280) in brite-dipped anodized finish that replaces the stock plastic caps on a 1994-1997
 Honda VFR750F Interceptor 750 models. 
These three caps come available in 4 colors -red, blue, gold and silver.
This

 

reservoir cap set is CNC made from 6061 T6 billet aluminum, is brand new still in original packaging, manufactured in the USA, and comes complete with manufacturer warranty.

The rectangular bolt-on

F

ront B

rake Fluid Reservoir Cap and Clutch Fluid Reservoir Cap (Pro-tek Part No. RC-700)

 are both 3.31" (84.14mm) x 1.69" (42.86mm)

with

Height .1875" (4.76mm)

with two bolt holes and breather vents etched into the underside to prevent gas vapor vacuum pressure buildup. 

These two caps do not come with bolts.

  You must use your stock cap bolts.  

Replacement bolts are available in Flat Head Stainless Steel 316 (A-4) if you are tired of the stock bolts that rust and strip or break off.

  

These caps are engraved with the words Pro-tek Racing.
The threaded round screw-on 

Rear 

B

rake Fluid Reservoir Cap (Pro-tek Part No. RC-100)

 is 

2.25" (50.17mm) x .50" (12.2mm) and has the word Pro-tek engraved on it twice.
The retail price for this cap set is $89.85.
These are not "NO Named Brand" cast aluminum caps machined later to look like billet (made in China) that are all over the Internet. These are American made from solid billet aluminum, 100% CNC machined from a name you can trust - Pro-tek - a leader in the motorcycle industry for over 25 years.
1994-1997 Honda VFR750F Interceptor 750
-Condition: 100% Brand New
-Material: 6061T6 Aluminum
-Available Colors: Red, Blue, Silver, Gold
-Surface finish: Brite-Dipped Anodized
-Feature: 100% CNC manufactured with Pro-tek Racing engraved
-Size: 3.31" (84.14mm) x 1.69" (42.86mm) with Height .1875" (4.76mm)  (2)
          2.25" (50.17mm) with Height .50" (12.2mm)  (1)
-Placement on vehicle: Front & Rear
-Contents of package: One Front & One Rear Brake Fluid Reservoir Cap
                                    One Clutch Fluid Reservoir Cap
-Item is easy to install without any instruction