Pro-Tek Chain Adjuster Bolt Repair Kit For 1999-2023 Kawasaki Ninja ZX6R ZX-6R, 2003-2006 Kawasaki Ninja ZX6RR ZX-6RR SAB-10 SAB-20 Swing Arm Saver Kit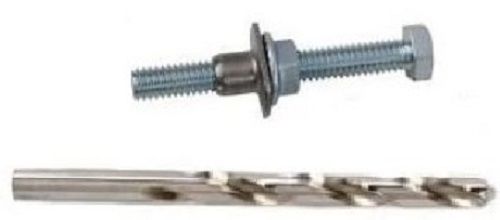 Pro-Tek Chain Adjuster Bolt Repair Kit For 1999-2023 Kawasaki Ninja ZX6R ZX-6R, 2003-2006 Kawasaki Ninja ZX6RR ZX-6RR SAB-10 SAB-20 Swing Arm Saver Kit
You are looking at a Pro-tek SWING ARM BUDDY repair kit that replaces a chain adjuster bolt after it seizes and breaks off in the swing arm of 1999-2023 Kawasaki Ninja ZX6R, 2003-2006 Kawasaki Ninja ZX6RR and 2013-2023 Kawasaki Ninja ZX6R ABS models
During normal cleaning and/or operating in moist environments, water enters and migrates to the rear of the swing arm causing the bolt to rust and seize. Consequently, at the next chain adjustment interval, the bolt can break off in the swing arm. This is becoming an increasingly common problem with today's motocross, street and enduro bikes. Rather than removing the swing arm from the bike, the SWING ARM BUDDY will allow the average rider to fix the broken stud in approximately 10 minutes without the expense of a machine shop, normally required for this repair. It comes in two distinct kits. 
A SAB-10 single kit includes one 3/8" extractor drill bit and one special thread fitting. A SAB-20 double kit contains one 3/8" extractor drill bit and two special thread fittings.  Also included are easy to follow instructions.
Replaces seized and/or broken chain adjuster bolts
Kit allows you to replace broken bolts in approximately 10 minutes without having to remove the swing arm from the bike
Comes with a high-speed hardened drill bit that is used to drill out the broken bolt, then a stainless steel threaded insert block can be easily and permanently inserted
With threads replaced, a new adjustment bolt and lock can be used
NOTE: Because we are drilling out the broken bolt, the new bolt will have a larger head than the stock chain adjuster bolt.  You will now use a 1/2" or 13mm socket instead of the stock 13/32" or 10mm socket
These kits are brand new, still in original packaging complete with manufacturer warranty.  These are not the copycat "Chinese Kits" that are now flooding ebay made from inferior materials. Those bolts will break and damage your bike. These are American made kits from a name you can trust- Pro-tek- a leader in the motorcycle industry now for 25 years.