Kawasaki Ninja ZX12R Rear Set 2000 2001 2002 2003 2004 2005 Ninja ZX-12R Pro-tek RS-140 Rearset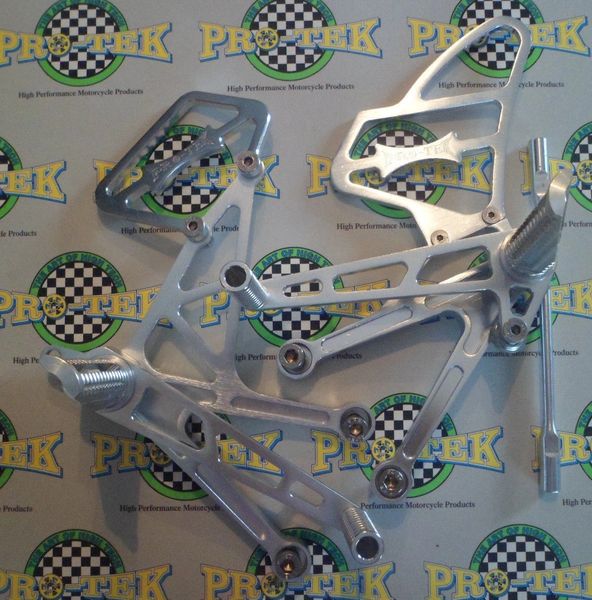 Kawasaki Ninja ZX12R Rear Set 2000 2001 2002 2003 2004 2005 Ninja ZX-12R Pro-tek RS-140 Rearset
You are looking at a Pro-tek Billet Aluminum Rear Set
(Pro-tek Part No. RS-140)
that fits a
2000-2005 Kawasaki Ninja ZX-12R
.
This rear set is made from 6061 T6 billet aluminum, brand new in original packaging, manufactured in the USA and comes complete with manufacturer warranty.  
This rear set comes complete with the billet shift and brake-side bracket, a shift-side chain guard and brake-side master cylinder heel guard, two slash cut pro-lite pegs, a lightened shift and brake-side lever with toe peg, a shift side male right rod end and aluminum shift rod with flats on the ends for adjusting and tightening when screwing into the bike shifter heim joint and motor mount heim joint.  You also receive the stainless steel hardware needed to bolt this kit on to the bike.
All individual pieces are also sold separately making it easy to replace broken parts after a drop or spill.
These pegs will re-position the feet one inch back and one inch up to provide better ground clearance and handling. These pegs
DO NOT
fold up like stock pegs.
You are able to do GP (reverse) shifting with this model rear set.
Like ALL aftermarket rear sets, you will lose the return spring thus making your rear brake light in-operable unless you use an optional rear brake light kit.  This optional brake light kit is needed for all aftermarket rear sets to make the rear light work when applying only the rear brakes.  It is not needed for track applications as the rear brakes still work.  The rear light will still work when the hand brake is applied, but is necessary to function when applying the rear brakes only.

You WILL NOT receive this optional coarse pitch pressure switch (Pro-tek Part No. RS-105) needed to make the rear brake lights come on when applied.  This kit with directions is available for an additional $15.
If you have fitment questions or technical problems,  feel free to contact our customer service department at (609) 312-6022.
The retail price for this rear set is $272.00.
All items will ship within 1 business day upon cleared payment and will ship US Mail.   
These are
American made
from solid 6061T6 billet aluminum, 100% CNC machined from a name you can trust - Pro-tek.  Pro-tek is one of the leading US manufacturers in the motorcycle industry now for over 20 years.