Suzuki RF600R RF900R Rear Brake Fluid Reservoir Cap 1994 1995 1996 1997 RF-600R RF-900R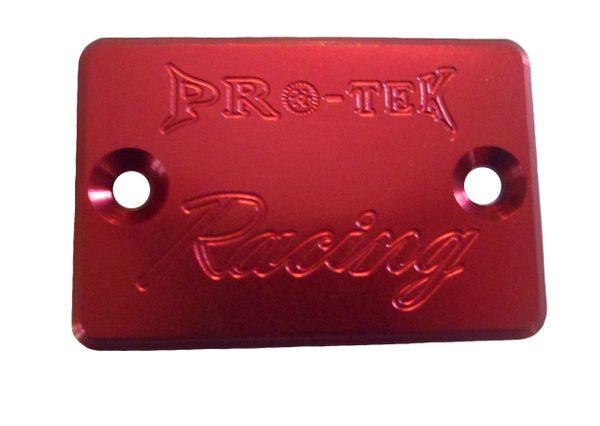 Suzuki RF600R RF900R Rear Brake Fluid Reservoir Cap 1994 1995 1996 1997 RF-600R RF-900R
You are looking at one Pro-tek CNC billet Front or Rear Brake Fluid Reservoir Cap in brite-dip anodizing or triple chrome-plated finish that fits many motorcycles with rectangle reservoirs. See your listing below.

This reservoir cap (Pro-tek Part No. RC-800) is made from 6061 T-6 billet aluminum, is brand new still in original packaging, manufactured in the USA, and comes complete with manufacturer warranty.

This bolt-on cap is 1.25" x 2.00" with two bolt holes and breather vents on the underside.

This cap is available in gold, black, red, blue, silver or chrome.
The cap is engraved with the words Pro-tek Racing. This cap does not come with bolts. You must use your stock cap bolts.
The retail price for this cap is $25.00(colors) and $40.00(chrome).
If you have fitment questions or technical problems, feel free to contact our customer service department at (609) 312-6022.
These are not cast aluminum machined later to look like billet (made in China). These are American made from solid billet aluminum, 100% CNC machined from a name you can trust - Pro-tek - a leader in the motorcycle industry now for over 20 years.

RC-800 Front and Rear Brake Reservoir Cap Application Chart

Honda
2013-2015 CB-500 X/XA (Front & Rear Brake)
2013-2015 CB-500 F/FA (Front & Rear Brake)
2013-2015 CBR-500 R/RA (Front & Rear Brake)
2003-2015 CBR-600RR (Rear Brake)
1988-1991 GT-650 Hawk/NT650 Hawk (Rear Brake)

1990-1993 VFR-750F (Interceptor 750) (Rear Brake)

2004-2007 CBR-1000RR (Rear Brake)

1998-2005 VTR-1000F Superhawk 1000 (Rear Brake)
Kawasaki
2009-2012 Ninja 250R (Front Brake)

2013-2015 Ninja 300 (Front Brake)
2008-2014 KLR-650 (Front Brake)

Suzuki
1989-2009 GS-500 (Rear Brake)

1996-2003 GSF-600S Bandit (Rear Brake)

1988-1997 GSX-600/750 Katana (Rear Brake)

1992-1993 GSXR-600W (Rear Brake)

1996-2005 GSXR-600 (Rear Brake)

1994-1996 RF-600R (Rear Brake)

2008-2010 GSX-650F Katana (Rear Brake)

2004-2014 DL-650 V-Strom (Rear Brake)

1999-2010 SV-650/650S (Rear Brake)

1991-2005 GSXR-750 (Rear Brake)

1994-1997 RF-900R (Rear Brake)

2002-2014 DL-1000 V-Strom (Rear Brake)

2001-2006 GSXR-1000 (Rear Brake)

2003-2007 SV-1000/SV-1000S (Rear Brake)

1997-2003 TL-1000S/R (Rear Brake)

1993-1998 GSXR-1100W (Rear Brake)

1997-2005 GSF-1200 Bandit (Rear Brake)

2007-2011 GSF-1250S/SA Bandit (Rear Brake)

1999-2015 GSX-1300R Hayabusa (Rear Brake)