Suzuki DRZ110 Gas Cap 2003 2004 2005 DRZ 110 Pro-tek 737 DRZ-110 Fuel Cap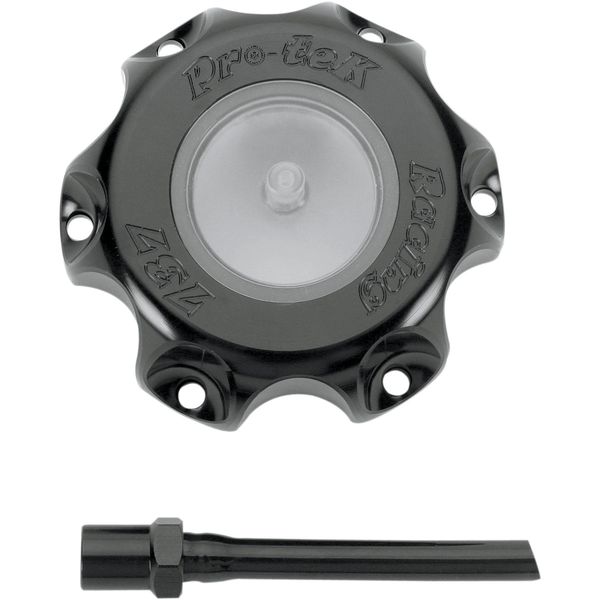 Suzuki DRZ110 Gas Cap 2003 2004 2005 DRZ 110 Pro-tek 737 DRZ-110 Fuel Cap
You are looking at a Pro-tek CNC billet MX Gas Cap (Pro-tek Part No. 737) in bright-dip anodizing that fits a 2003-2005 Suzuki RM65, 2003 Suzuki RM100, 2003-2005 Suzuki DRZ110,2004-2006 Suzuki RMZ250, 2000-2007 Honda CR-125R and a 2000-2007 Honda CR-250R.

This patent-design fuel cap is made from 6061 T-6 billet aluminum, is brand new still in original packaging, is manufactured in the USA, and comes complete with manufacturer warranty. This cap comes with a patented clear see-through eye piece, a Motocross Plus vent top, a gasket and an o-ring to insure a tight seal to prevent leakage. The gas-impervious clear polymer sight piece allows inspection of fuel levels without removing the fuel cap.  This cap is available in gold, silver, black, red and blue.

The retail price for this cap is $62.00.

If you have fitment questions or technical problems, feel free to contact our customer service department at (609) 312-6022.

These are not cast aluminum machined later to look like billet (made in China).  These are American made from solid billet aluminum, 100% CNC machined from a name you can trust - Pro-tek - a leader in the motorcycle industry now for over twenty years.

Pro-tek 737 MX/ATV FUEL CAP Applications
2003-2005 Suzuki RM65
2003           Suzuki RM100
2003-2005 Suzuki DRZ110
2004-2006 Suzuki RMZ250
2000-2007 Honda CR125R
2000-2007 Honda CR250R