Suzuki DL650 Vstrom Lowering Links 2004 2005 2006 2007 2008 2009 2010 2011 2012 2013 2014 DL-650 Vstrom Pro-tek LL-45 links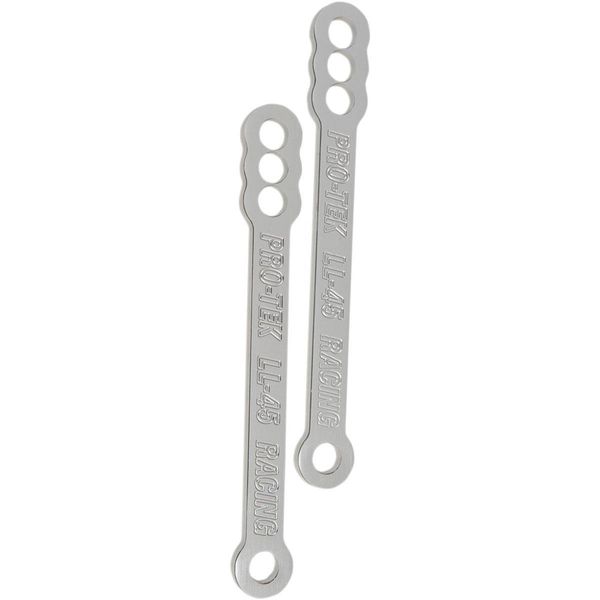 Suzuki DL650 Vstrom Lowering Links 2004 2005 2006 2007 2008 2009 2010 2011 2012 2013 2014 DL-650 Vstrom Pro-tek LL-45 links
You are looking at a Pro-tek CNC billet lowering link kit (Pro-tek Part No. LL-45) that fits a 1997-2000 Suzuki GSXR-600, a 2004-2014 Suzuki DL-650 Vstrom 650, a 2003-2009 Suzuki SV-650/650S, a 1996-1999 Suzuki GSXR-750 and a 2002-2012 Suzuki DL-1000 Vstrom 1000.


They are made from 7075 T-6 billet aluminum. This kit is brand new, manufactured in the USA, and comes complete with manufacturer warranty.
These links come with three settings that lower the bike to stock position, a 2" drop or 4" drop.


The retail price for this kit is $55.00.

All items will ship within 1 business day upon cleared payment and will ship US Mail.

If you have fitment questions or technical problems, feel free to contact our customer service department at (609) 312-6022. .

These are American made from solid billet aluminum, 100% CNC machined from a name you can trust - Pro-tek. Pro-tek is one of the leading US manufacturers in the motorcycle industry now for over 20 years.

Link Specs

Link End to End 7 3/4"
Center hole to 1st hole center 5 3/4"
Center hole to 2nd hole center 6 1/4" Center hole to 3rd hole center 6 3/4"

The Single hole will face up and the Three holes will face down when installing.


LL-45 Applications

1997-2000 Suzuki GSXR-600
2004-2014 Suzuki DL-650 Vstrom 650
2003-2009 Suzuki SV-650/650S
1996-1999 Suzuki GSXR-750
2002-2012 Suzuki DL-1000 Vstrom 1000