Pro-tek 10mm x 1.00 Pitch Pressure Switch Rear Set Rear Brake Light Kit RS-BRK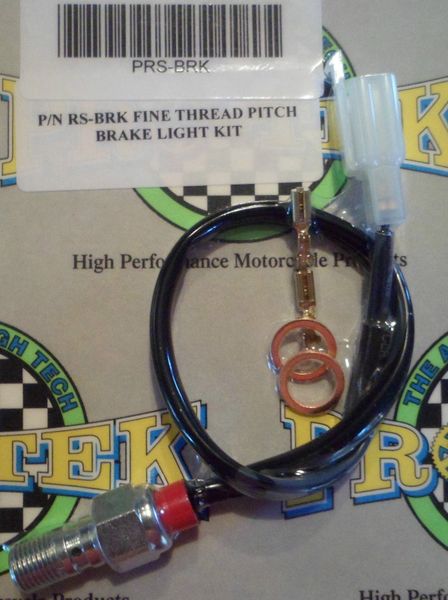 Pro-tek 10mm x 1.00 Pitch Pressure Switch Rear Set Rear Brake Light Kit RS-BRK
You are looking at a Pro-tek Fine Pitch Rear Set Rear Brake light Pressure Switch Kit (Pro-tek Part No. RS-BRK) . See application listings below.

This kit is needed for aftermarket rear sets for the rear brake light to turn on when applying rear brakes. You simply screw the 10mm x 1.00 banjo bolt end directly into your master cylinder and hook up the other end to the wiring harness that leads to the battery. This is done by either clipping it into an existing clip or if no clip is attached, simply splicing the two wires into the wiring harness and taping with electrical tape. Step by step instructions are included with this kit.

This kit is manufactured in the USA and comes complete with manufacturer warranty.

The retail price for this kit is $30.00.

If you have fitment questions or technical problems, feel free to contact our customer service department at (609) 312-6022.

All items will ship within 1 business day upon cleared payment and will ship US Mail.
Applications:
Ducati 750SS/900SS
Ducati Superbikes

Aprilia Mille
Aprilia Tuono
Aprilia Factory

1999-2002 Suzuki SV-650/S
1988-2003 Suzuki GSXR-600/750
2001-2002 Suzuki GSXR-1000
1998-2003 Suzuki TL-1000R (NOT S Model)
1999-2015 Suzuki GSX-1300R Hayabusa