Honda VFR-800F/FD Interceptor Fully Adjustable Lowering Link 2014 2015 VFR 800 F FD Pro-tek LL-290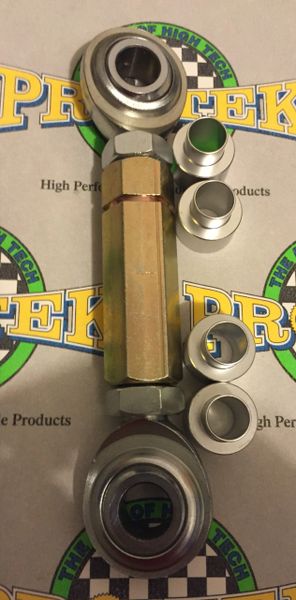 Honda VFR-800F/FD Interceptor Fully Adjustable Lowering Link 2014 2015 VFR 800 F FD Pro-tek LL-290
You are looking at one Pro-tek CNC fully adjustable lowering link that replaces the single stock link on a 1998-2001 Honda VFR-800FI Interceptor, 2002-2009 Honda VFR-800 Interceptor (Non ABS model), 2002-2009 Honda VFR-800A (ABS model) and a 2014-2015 Honda VFR-800F/FD Deluxe Interceptor (Pro-tek Part No. LL-290).

This single link is made up of one 6061 T6 billet aluminum center and two stainless steel rod ends with adjusting nuts to tighten down when the desired ride height is reached.  It also comes with four aluminum bushings for easy fitment.

The CNC made center piece is black anodized to protect against oxidation and corrosion. Links are anodized to protect from corrosion and oxidation.
Stainless Steel rod ends are used with an aluminum center piece to protect against binding and seizing from metal on metal corrosion when threading.

Fully Adjustable Links allow you to make adjustments on the fly without having to unbolt the lowering link. You simply turn the center piece to find desired ride height and tighten down the adjusting nuts to secure in place.  Its that easy.

This kit is brand new in original packaging, manufactured in the USA, and comes complete with manufacturer warranty.  

These links come with infinite settings that lower the bike from 1" to 5". 
Suspension Link Specifications
                                                                                                                             Link Completely Closed                   Link Max Opened

   Total Length, End to End                                    6.25 inches (159mm)                     7.375 inches (187mm)

                              Total Length, Eye Center to Eye Center             4.875 inches (124mm)                   6.00   inches (152mm)


The retail price for this kit is $119.95. 

If you have fitment questions or technical problems, feel free to contact our customer service department at (609) 312-6022.

All items will ship within 1 business day upon cleared payment and will ship US Mail.

These are American made from solid billet aluminum and stainless steel, 100% CNC machined from a name you can trust - Pro-tek.  Pro-tek is one of the leading US manufacturers in the motorcycle industry now for over 20 years.   These are not Chinese made links that are currently flooding the internet.

Pro-tek LL-290 Lowering Link Application
1998-2001

Honda VFR-800FI Interceptor
2002-2009 Honda VFR-800 Interceptor (Non ABS model)
2002-2009 Honda VFR-800A (ABS model)

2014-2015 Honda VFR-800F/FD Deluxe Interceptor