Honda CB600F Front Brake Fluid Reservoir Cap 2004 2005 2006 CB-600F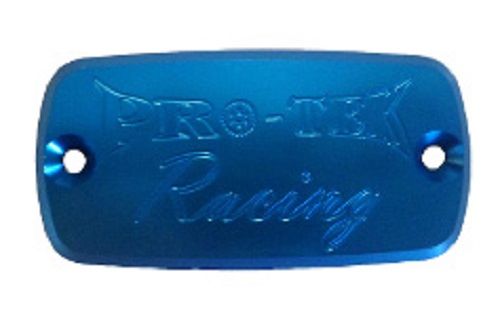 Honda CB600F Front Brake Fluid Reservoir Cap 2004 2005 2006 CB-600F
You are looking at one Pro-tek CNC billet Rectangular Front Brake or Clutch Fluid Reservoir Cap in brite-dip anodizing or triple chrome-plated finish that fits many models. See your application listing below.

This reservoir cap (Pro-tek Part No. RC-700) is made from 6061 T6 billet aluminum, is brand new still in original packaging, manufactured in the USA, and comes complete with manufacturer warranty.

This front brake or clutch fluid reservoir cap is a bolt-on measuring 3.25" X 1.25". This cap does not come with the two bolts.  You must use your stock bolts for this cap.

Available in Red, Blue, Gold, Silver, Black and Chrome.

The retail price for this cap is $25.00(colors) and $40.00(chrome).

If you have fitment questions or technical problems, feel free to contact our customer service department at (609) 312-6022
These are not "NO Named Brand" cast aluminum parts machined later to look like billet (made in China).  These are American made from solid billet aluminum, 100% CNC machined from a name you can trust - Pro-tek a leader in the Motorcycle Industry now for over twenty years.

RC-700 Front Brake Reservoir and Clutch Reservoir Cap Application Chart
2004-2006 Honda CB-600F        (Front Brake)
2003-2006 Honda CBR-600RR  (Front Brake)
1991-2006 Honda CBR-600F2/3/4/4i  (Front Brake)
1989-1991 Honda NT-650 Hawk         (Front Brake)
1994-2003 Honda VF-750F         (Front Brake)
1990-1993 Honda VFR-750F Interceptor     (Front Brake)
1994-1997 Honda VFR-750F Interceptor     (Front Brake and Clutch)
1998-2011 Honda VT-750 Shadow  (Front Brake and Clutch)
1998-2009 Honda VFR-800R  Interceptor      (Front Brake and Clutch)
2002-2007 Honda CB-900F 919       (Front Brake)
1987-1996 Honda CBR-1000F         (Front Brake and Clutch)
2005          Honda VTR-1000F  Superhawk   (Front Brake and Clutch)
1997-2003 Honda CBR-1100XX      (Front Brake and Clutch)
2013-2015 Honda CB-1100/A           (Front Brake and Clutch)
1992-2003 Honda ST-1100               (Front Brake and Clutch)
2003-2015 Honda ST-1300               (Front Brake and Clutch)